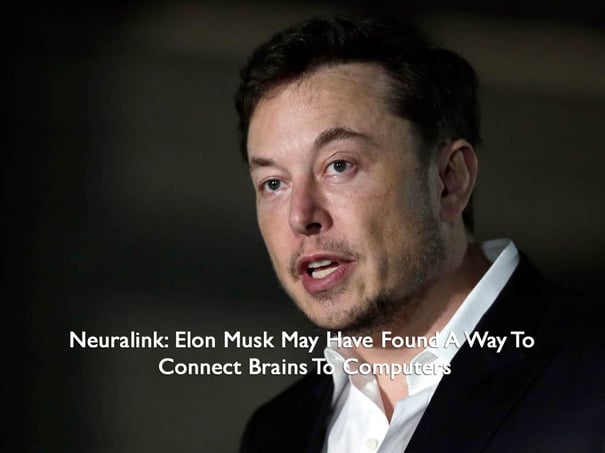 Have you been keeping up with the latest news around some of Elon Musk's most secretive work recently? I am sure you have seen something about one or two of his companies and what they are embarking on. One article that just caught our eye was the anticipated announcement from his company Neuralink Corporation.
If you have yet to follow what these guys are trying to do, Neuralink was founded in 2016 with a goal to make devices to treat brain diseases by developing "implantable brain-computer interfaces (BCIs)." Sounds like something straight out of a science fiction film but Neuralink is very serious about this and evidence shows they are about to make an announcement confirming they have found a way to make this a reality.
Rather than humans being left behind, Musk ultimately wants to create technology that "allows a merging with AI." According to theverge.com "the central problem of interacting with AI is actually "bandwidth." You can take in information much more quickly than you push it out via your voice or your thumbs… Hence, his goal is for this system to allow humans to more quickly communicate with machines directly from their brains."
On the subject of efficient communication and improving the transfer of important actionable data, we are always fascinated which technological advancement. Not only what can be done today but also the possibilities for the future, which is precisely why we recently announced our APM-CAT solutions to allow intelligent interaction with machines, devices and users in real time. Basically an asset monitoring solution comprised of hardware, software and sensors that will transform the way we maintain, monitor, receive and act on issues with industrial equipment in our now connected world.
"The benefits to customers include lower maintenance and repair costs, much higher reliability, and better management of equipment", noted Corvalent IoT and Industrial Computing Senior Product Manager Alan R. Weiss. "Until now, IoT has been seeking that 'killer app' to justify its value. Predictive and Preventative Maintenance is that killer application, one that will provide justifiable returns on investment", he added. An additional benefit that has proven key to many customers is the fact that this offering is a full end-to-end turnkey solution. Customers are able to take advantage of faster product development and deployment including hardware and software combined, setup, tested and delivered under a single SKU.
While we are not implanting any devices into our brains to receive this important information, we at Corvalent are leading the charge in the industrial IoT world, aiming to solve some of the most critical predictive and preventative maintenance problems. Our goal is focused on adding actionable and a greater sense of intelligence about your industrial equipment, and that's only the first step…
Read more here:
https://www.theverge.com/2019/7/16/20697123/elon-musk-neuralink-brain-reading-thread-robot
https://www.independent.co.uk/life-style/gadgets-and-tech/news/neuralink-elon-musk-brain-computer-interface-connection-live-a9006856.html
https://www.wired.com/story/heres-how-elon-musk-plans-to-stitch-a-computer-into-your-brain/