My CEO, Ed Trevis (you've probably met him before on this website, or in person) has many talents, perhaps none so useful to me as simplifying things. The ability to boil things down to get to the essence of a situation is not unusual, but Ed's ability to see with clarity where things are going makes our discussions of the Internet of Things (IoT) and the Industrial Internet of Things (IIoT, or Industry 4.0) so much more straightforward.
"We help companies save money, make money, and stay out of trouble." – Ed Trevis
Clearly if you're saving money using IoT, that's money that falls directly to the bottom-line – or can be used for other investments, expenses, and so on. If you are a reader of this humble Blog, you may have read how predictive and preventive[1] maintenance can save your company and your customers money. If you've ever had to call a professional plumber on the weekend, you know how rates can sometimes skyrocket when something has to be serviced immediately, inconveniently. My refrigerator went out of a Saturday, and finding a repair person whilst the food melts and turns to dangerous mush wasn't much fun, either. If you can schedule service, if you can predict when a machine or a system has to be serviced, the world is less expensive and more pleasant for you, right? It's one of the most solid use cases for IoT and IIoT. Our friends at IoT Analytics have a graphic to show this: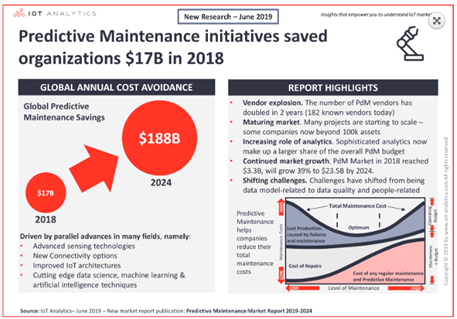 -----------------------------
[1] "There is no difference between preventive and preventative. They are both adjectives that mean 'used to stop something bad from happening.' Both words are commonly used in contexts concerning health care, as in 'preventive/preventative medicine.' Preventive, however, is used much more frequently than preventative." - https://www.merriam-webster.com/words-at-play/preventive-or-preventative#:~:text=
In a future Blog posting, we'll talk about how IoT (in Medical care, i.e. telehealth) and IIoT (factory floor, hazardous areas such as oil fields, etc.) can dramatically improve safety, but one little tidbit is this: detecting dangerous gases, chemical spills, and preventing disasters by monitoring equipment leads to virtuous cycles that not only reduce risk and improve worker health, it can save a lot of money, too. If you're spending money dealing with safety issues, higher insurance costs, or worker downtime, you're not spending that money on product or service investments – or returning it to your stakeholders.
But how can you make money with IoT?
Here are some scenarios that turn data into gold – see if any of them might apply to your company:
Case 1: 100+ Year Old Equipment Manufacturer Embraces 21st Century with Services
A large factory floor machine company with over 100 years of experience believes in predictive maintenance, so they are adding sensors to their equipment. They sell this equipment to a number of other companies in the business of manufacturing and packaging up food and pharmaceutical products, and they realize that they can provide an IoT Monitoring Service for their industrial customers.
Instead of these customers hiring Operational Technology professionals (or IT people), researching and building their own IIoT networks, building their own information display software dashboards, or integrating or writing their own analytics software, the customer can simply check a box off when they order the machinery and have the manufacturer monitor it for them. Because Corvalent provides a complete turn-key solution and is a one-stop shop, adding Machine Monitoring with Predictive and Preventive Maintenance to their product line is easy. Now the factory floor machine manufacturing company is not only providing hardware, they're providing a service and saving their customers millions of dollars – and getting paid for it. Corvalent's CAT-APM Software, just as with our industrial computers, can be customized, branded, and deployed quickly, allowing this venerable yet modern machine company to launch a new service for their customers, and even offer to monitor all of their customer's machines for a monthly fee.
Case 2: Remote Monitoring Service
In the telehealth business, which by now is over 25 years old and still in its relative infancy, companies have been created specifically to remotely monitor patients regardless of what equipment and equipment vendors are used. One such company is located in the American Midwest rust belt, where unaccented American English is (often) spoken, labor is less expensive and is hungry to be retrained for modern jobs, and the central time zones are convenient. Set up like a Network Operations Center (NOC) or a Security Operations Center (SOC), the company has a huge "war room" type monitoring a number of other companies' telehealth patients. Key vital signs are managed and if there is a need to call a nurse, or a physician, or 9-1-1, these call centers take care of that. There are even monitoring associations that certify these call centers.
We can expect that IoT and IIoT will open up opportunities for this type of business, so that companies deploying sensors, edge computers, gateways, and sophisticated alerting, notification, and data management systems don't have to hire staff – they can focus on what they are good at, and let a monitoring company take care of the details.
Case 3: Fleet Management Enabled by IoT (i.e. New Businesses)
Electric scooters and electric bicycles have sprung up in a large number of cities worldwide, and one of the key technologies is the use of IoT for fleet tracking. Has the customer gone outside a designated rental area? What is the state of the lithium batteries driving these transportation devices? Is there air pressure in the tires? How can we offer automatic unlocking and locking of the vehicles? Has someone thrown our e-scooter into a lake? (Don't laugh … this has been a chronic problem in Austin, Texas, not to mention occasional but expensive theft). Remote monitoring, asset tracking in real time, and remote activation/deactivation that uses IoT technologies makes perfect sense. This is just one example of a new business that becomes possible and much more efficient if it uses IoT.
There are so many other new businesses that suddenly become viable by the judicious and prudent use of cost-effective IoT and IIoT technologies. I hope I've shown that what Corvalent is doing puts you in a much better position to not only save money, not only improve safety and safety compliance, but can also be a lucrative new business, product line, or source of revenue.
Have an idea for a new business? Tired of having people manually check gauges, switches, individual machine status, location of your assets, and then get hit with unexpected downtime? Send me an email and let me know your great idea (mutual non-disclosure agreements are available). We offer free idea vetting and consulting at no charge to you.