Industry-Leading Computing Supplier Corvalent Announces CAT-APM Industrial Internet of things (IIoT) Demonstration/Evaluation Kit
Cost-Effective Way for Companies to Evaluate Automating the Monitoring of Assets and Production
Cedar Park, TX - June 23, 2020 — Given the "New Normal" of COVID-19 and the pressing need to automate monitoring industrial machines, buildings, and other Industrial IoT assets, Corvalent Corporation is announcing the availability of the CAT-APM Demonstration and Evaluation Kit.
Short for "Connected Assets Technologies-Asset Performance Monitoring", CAT-APM can now be easily demonstrated and evaluated by OEM customers as well as VARs, System Integrators, and Resellers using this new Kit. Consisting of a Corvalent CorEdge™ x86/x64 or ARM Edge Computer (customer's choice), five (5) Corvalent CorSense environmental sensors, a secure MQTT Gateway, a Router, and a high resolution gorgeous 17" flat panel display packaged in a durable, mobile hard-shell case, the "Demo Kit" includes a 1 year demonstration license to Corvalent's previously announced CAT-APM Enterprise IIoT application software and platform – all for a low USD $4995.00.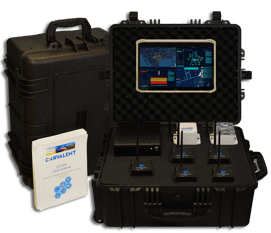 Photo: Demonstration & Evaluation Kit from Corvalent
"While capital expenditures are down in most industries, we find sustained and even expanded spending on automation", explained Corvalent CEO Ed Trevis. "The need to reduce employee exposure to potential risk is driving remote monitoring of assets as well as predictive and preventative maintenance so that service and maintenance personnel can be more efficiently deployed, or even in some cases reduced. Costs can be driven down, and safety improved with monitoring", he said.
"We at Corvalent wanted to create something that a prospective customer can set up in minutes, and see the CorSense sensors collecting and monitoring real-world data feeding that into our dashboard and monitoring software", noted Corvalent Senior Product Manager Alan R. Weiss. "Using environmental sensors that track temperature, humidity, air quality, and even gas resistance, the Customer can see how the entire system works, all from the comfort of their own office or building. Set-up has been designed to be simple and easy, taking only minutes. Then the Customer can imagine asset and production monitoring for their products and their customers. It can even open up new revenue sources, at a time when increasing revenue is key to adapting to the New Normal", Weiss explained.
For more than 26 years, the Cedar Park, Texas-based Corvalent has been a leading industrial supplier of long-life motherboards, Servers, Edge and Gateway systems. With CAT-APM, Corvalent has created the perfect addition to a Customer's equipment and assets, and is providing a complete solution.
"The Corvalent Platform and enterprise-grade applications exhibit security, flexibility and allow for edge- computing as well as on-premises server or cloud computing" said CEO Trevis, Corvalent President and CEO. "We believe strongly that a lot of processing will be done both in the cloud and on the edge of the IoT, and having a Platform that completely supports both transparently results in a much more fault-tolerant system with practically no down-time due to connectivity disruptions."
The CAT-APM Demonstration and Evaluation Kit is available immediately, and can be customized just as Corvalent CorEdge industrial PC's and CAT-APM is easily customized. Click here to view the kit.
Contact sales@corvalent.com for more details.

ABOUT CORVALENT
Texas-based Corvalent supports embedded developers, IoT and IIoT Operational Technology, and OEMs with rugged, customized, made-in-America industrial computing systems, products, and software. Ensuring longevity by design since 1993, Corvalent offers smart, flexible solutions and products optimized for connected embedded markets and enabling reliable high-performance computing on-premise, in the cloud, or via customized hybrid architectures. The company offers custom materials planning and advisory services; real-time engineering to address any technology or platform; modification of COTS or standards-based solutions for unique, mission critical applications; and elite, white glove technical support. For more information, please visit www.corvalent.com or email Chris Coyne, Senior Marketing Manager at chris.coyne@corvalent.com