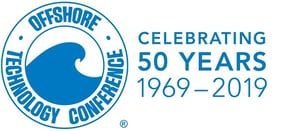 OTC 2019 Is Right Around The Corner!
OTC will be here sooner than you think! Once again we are looking forward to a great show and hope to see many of you there. This will be a milestone year as its OTC's 50th anniversary. That's right, since 1969 Houston Texas has been the home to this technology conference each year and this year they will be celebrating their "Golden Anniversary." Corvalent is also celebrating two significant milestones - Over 25 years in business and 10 years in Texas!
What is OTC?
OTC stands for The Offshore Technology Conference which showcases "leading-edge technology for offshore drilling, exploration, production, and environmental protection. The conference is held each year at NRG Park in Houston Texas. This year's show starts May 6th through May 9th.
Why you should be interested?
In 2018, OTC had over 61,000 attendees including over 2,000 exhibiting companies with similar statistics expected this year. According to OTC.net, these are the top 8 reasons to attend the conference:
Quality: 350+ peer-selected technical presentations, leveraging 13 societies' collective knowledge and covering topics from the wellbore to topsides and everything in between.
Value: 500,000+ sq. ft. of exhibit space with ground-breaking innovations and 2,000+ leading providers of products and services in one place, at one time.
Networking: 60,000+ energy professionals from 100+ countries are there.
Always Something New: Connect with global C-suite leaders and 100+ speakers to discover what innovations we can expect over the next 50 years.
Media Exposure: 300+ journalists from around the world attend OTC.
Investing Back in the Industry: OTC's sponsoring organizations use revenue to provide many other important programs for its members, such as training and technical journals.
In the World's Energy Capital: Combine OTC with client meetings, business proposals, and company training.
Convenience: 174 nonstop flights, world-class venues and hotels, and nearby public transportation.
Follow this link for more information on this year's list of exhibitors.
About Corvalent

Texas-based Corvalent supports embedded developers and OEMs with scalable End to End IIoT Hardware and Software customized solutions designed for the Oil & Gas industry. Our Connected Asset (CAT) Intelligence products and applications include edge and gateway computing devices, asset monitoring dashboard software and sensors, all included in a single kit ready for deployment.
View IoT Intelligence Solutions